OUR PRODUCTS
We take pride in our enormous selection of rocks. No matter what shape, size or colour you need, you are sure to find what you are looking for in our spacious rock yard. The photos on the site are only a sampling, so grab a coffee and come on by to browse our stones!
Ornamental Stones
A feature stone makes a strong statement in your landscape project, either for property marking, garden decor or general landscaping. Our ornamental stones can be custom cut to suit your needs.
Come visit us today to see our incredible selection of ornamental stones!
Flag Stone
We have many different varieties of Flag Stone, in several different thicknesses, in our yard for you to choose from. Lime Stone, Sand Stone and Granite are all available.
Come see our selection – you won't be disappointed!
Ledge Rock and Retaining Wall Stone
We stock several varieties and colours of ledge rock and wall stone, available in any size you need. Our wall stone can be custom cut or guillotined to suit your project. We install, you install, or contractor install.
Come see our huge selection of Wall Stone!
Aggregates
We sell several sizes of River Rock, Crushed Aggregates, Screenings and Sand. Come pick up what you need, or we can deliver. Custom bagged one-yard orders are also available.
Unique Gifts
Custom Inukshuks, from 8 inches to 15 feet tall! One size definitely doesn't fit all!
Custom Stone Benches for your garden, and Decorative Stones to display your Address, Family or Business Name!
And other unique gift items you won't find anywhere else. New items being designed and created daily!
Volcanic Rock Dust
TUFF ASH 65 is a naturally occurring Volcanic rock (Basalt) that is crushed and milled to the specific size to release the Minerals into your soil instantly to enhance your harvest for years to come. Please see creationminerals.ca for more on how this product can restore the natural minerals in your soil and improve anything you are growing!
Personalized Monuments
Personalized Family Monuments for visiting family and friends without the cemetary! Ideal for those living elsewhere for rememberance.
Personalized Pet Monuments available in any size! Great for a backyard corner for personal solitude and reflection.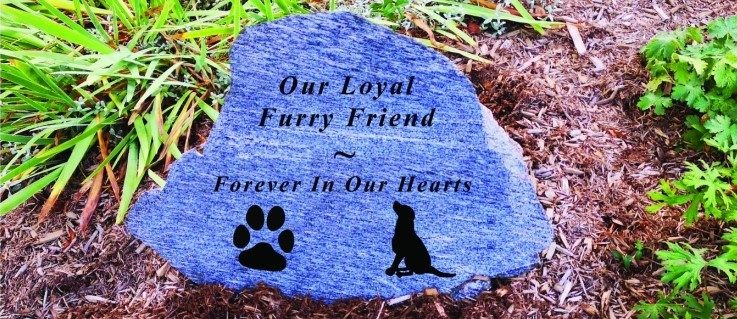 Visit Us!
5055 Simcoe St N
Oshawa ON L1H 7K4
905-447-8501
Hours
MONDAY to FRIDAY 9AM-6PM
SATURDAY 9AM-5PM
SUNDAY 10AM-4PM